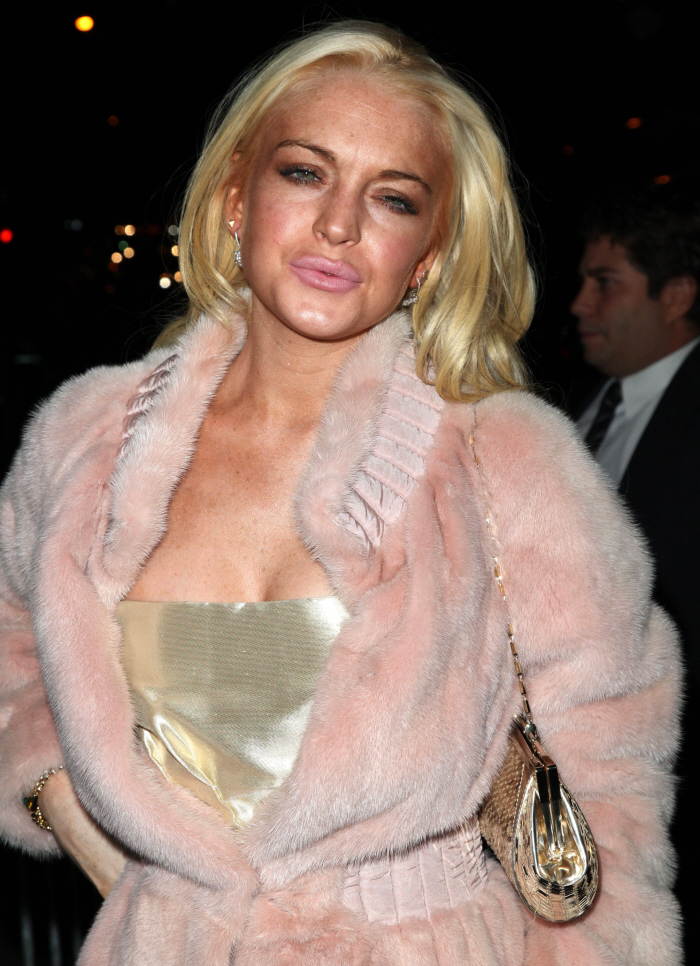 The epitome of beauty and grace
Lindsay during healthier and less cracked out times
In honor of Lindsay Lohan's recent scrape with an 18 wheeler, I decided to post a recap of the Cracktastic life of Lindsay Lohan. You know, all the shit that's not her fault! Lindsay's mom, Dina Lohan, told reporters a few days ago that Lindsay's brush with the rear end of an 18 Wheeler, of course, wasn't her fault. According to Lindsay's club buddy, aka Mom, Lindsay was being chased by paparazzi and the 18 Wheeler cut her off (cause 18 Wheelers are such nimble automobiles) and her brakes failed. I guess Dina covered all the bases with that one. No excuses have come forth as to why Lindsay tried to report to officers at the hospital that she wasn't driving and it was her assistant driving instead. But when officers interviewed the assistant he told them that no, it was Lindsay driving. I'm going to guess that if anybody needs a personal assistant there might be one available, gotta get those crack lies together! Bitch hasn't been able to get her life together all this time nor been held accountable for her actions. She keeps popping in and out of the news, but you don't really realize what she's gotten away with until it's all compiled like this. No normal person would be able to get away with all this shit, but I guess that if you were once rich and semi-talented then you have nothing to worry about.
So here's a recap of the life and times of a cracked out Lindsay:

2006:
Lindsay came out in an interview with vanity fair and admitted to having an eating disorder and using drugs. While filming "Georgia Rule" Lindsay is hospitalized for "heat exhaustion". The producers wrote an open letter telling her to knock that shit off. Later in the year, Dina tells Ryan Seacrest that Lindsay is currently in AA. Not because she has a problem or anything of course, it's because she's visiting her friends. I guess that AA is a great place to meet people and hang out. A week later, Lindsay tells People magazine that she's been in AA for a year and hasn't had a drink in a whole week.
A puffy faced Lindsay arrives to court
2007:
In January, she checks into rehab for the first time. One month later, she checks herself out of rehab and goes straight to a bar where she parties until 4 AM. In March, she's filmed using cocaine. In May, she is accused of stealing over $10,000 worth of clothes from a model named Susan Hastings. A little over a week later, she is arrested for drunk driving, after crashing her Mercedes and fleeing the scene. Police find cocaine in the car. It's her 3rd crash so far. Two days later, she checks into rehab for a second time. In July, she checks herself back out of rehab. 10 days later, she is involved in a high speed chase in a stolen Denali, while high on cocaine, trying to run down a woman. Police find cocaine in her pants pocket, but she uses the old tried and true "these ain't my pants" excuse, and you thought I made that shit up. She is arrested on 5 counts. A day later, she checks into rehab for the 3rd time. In August, it is reported that she lost an endorsement deal with Louis Vuitton because she kept stealing their shit. She gets charged with seven misdemeanor counts for her two DUI arrests earlier that year. She reaches a plea deal, saying she would spend one day in jail, serve 10 days of community service and complete a drug-treatment program. She is placed on 36 months probation and required to complete an 18-month alcohol-education program and pay a $300 fine. In October, she checks out of rehab again. In November, she arrives at jail to serve her 1 day punishment for the car chase and is released 84 minutes later due to "overcrowding".
The $11,000 fur coat Lindsay "didn't steal"
2008:
In May, she stole a $11,000 fur coat. She denied taking the coat but was later photographed wearing it. Bitch literally lives in a glass house!! What the fuck made her think....nevermind. In March, a warrant is issued for her arrest for breaking the terms of her probation, because she could never be bothered to show up for her court mandated alcohol counseling. 3 days later, the warrant is recalled after her Lawyer clears up the "misunderstanding." A week later, she is photographed wearing stolen earrings. In April, cops are called to her girlfriend Samantha Ronson's house because Lindsay is trying to break in. Cops let her go. In June of that year, she does a photo shoot for Elle magazine. After she left, it was discovered that $400,000 worth of diamonds that were used are missing. In October, she is an hour late for court to review her DWI case. Although she still had not completed the court ordered alcohol counseling, she is given another year to do so.

2009:
In February, her probation report reveals that, a month after leaving rehab for the 3rd time, she failed a drug test. In April, she misses court on a civil suit filed by the 3 people that had been in the stolen Denali she was driving. Instead she is photographed out shopping. 8 days later, she misses the rescheduled court date. She claims that she couldn't get a ride to make the 10 AM appointment, but was photographed leaving a club at 2 AM that morning. 2 days later, she is accused of stealing a $35,000 Rolex and is later photographed wearing it. In May, she shows up 22 minutes late for the 3rd rescheduling of her civil court case. She was photographed leaving a hotel at 2 AM that morning. Sometime during this time period, photographs surface of Lindsay sitting next to a table with lines of cocaine on it and what appears to be a rolled up dollar bill in her hand. Later that month, she is back in court for repeatedly violating her probation. Instead of any jail time, she has to wear an ankle bracelet that detects alcohol. In June her bracelet goes off. But she avoids going to jail by paying the $200,000 bail before the warrant can be served. July 6th, Lindsey is sentenced to 90 days in jail and 90 days of rehab for completely blowing off her alcohol counseling classes that she had 18 months to do and had gotten an extension on for a year 10 months earlier. She claims that she did the best that she could. 12 days into her 90 day sentence, she is released due to "jail overcrowding". In August she, begins her court ordered 90 day rehab. She is released 23 days later. In September, she fails her weekly court ordered drug tests and tested positive for cocaine. Instead of going to jail, she is fitted with another alcohol bracelet and is allowed to stay home while awaiting her next hearing. In October, she is again sent to rehab for 90 days. The judge warned her that if she did not complete rehab she would receive 180 days in jail. She tested positive for alcohol while in rehab. In December, she was caught trying to sneak out of rehab and hits the rehab employee that caught her. No charges were ever filed.


2010:
Kardashian wedding
In January, Lindsay goes into a jewelry store and steals a $2,500 necklace while her friend distracts the clerk. In February, she is charged with felony theft of the necklace. In April, she is found guilty of the felony theft and breaking probation and is sentenced to 120 days in jail. Instead of actually spending her sentence in jail, she is allowed to be on house arrest. Lindsay begins her house arrest on May 26th. In June, she is scheduled for an interview about how she's turning her life around on The Today Show. She blows off the interview after Matt Lauer flew 3000 miles to meet with her. A day later, while still on house arrest, she tests positive for alcohol consumption. Apparently, she drank while throwing a party at her house. 14 days into her sentence, she is released due to "overcrowding" in the jail. THE JAIL THAT SHE IS NOT PHYSICALLY IN!! On July 1st, Lindsay is summoned back to court for not completing her community service on time. Instead of revoking her probation, like what would happen to any non-celebrity, she gets a 1 year extension to complete it. In August, she gets drunk at Kim Kardashian's wedding with mom, Dina, who is seen feeding her shots. In September, Lindsay makes a scene at a fashion event by throwing a drink at a photographer, misses, and hits a waiter. In October, she's kicked out of community service because she wouldn't show up for days and when she did bother to attend, HER COURT ORDERED COMMUNITY SERVICE, she would only stay an hour or so before leaving. Since she's also still skipping her alcohol counseling, her bail is revoked and she is told to complete 16 hours at the morgue instead, but she skips the first day she is supposed to show up. She gets 1 day in jail for violating her probation and ordered to finish her community service. She serves only 4 hours of her 1 day sentence due to "overcrowding", again.
This Year:
In March, Lindsay leaves a club and hits a man in the parking lot and leaves the scene of an accident. She later switches seats with her passenger and no charges were filed. In April, 3 days after being taken off probation, she is involved in an altercation at The Standard Hotel and Night Club. She denies being there, although 3 witnesses and surveillance video say otherwise. No charges are filed. 2 weeks later, while at the same nightclub while partying with her dad, she's involved in yet another altercation where she throws a drink a chick who had told her how fucked up it is to party with your dad. Father, Michael Lohan, denies that the incident happened. No charges filed. Friday morning, Lindsey was found "unresponsive" in her hotel room when someone tried to wake her. Her personal alarm clock called producers of her current epic fail of a movie "Liz and Dick", who advised them that it might be best to call paramedics and the fire department. Upon their arrival, they were able to rouse the sleeping beauty *cough cough*. They determined that Lindsey was severely exhausted from her "grueling work schedule" and slightly dehydrated. Which I translated to mean "passed out drunk and had cotton mouth". She is now being treated for "exhaustion". Yeah, I wish I could afford to be "exhausted". According to Lindsay, on her Twitter account she's worked 85 hours in 4 days. Now I'm not the sharpest tool in the shed when it comes to math but I do have a handy dandy calculator. That's 21.5 hours a day. Maybe if she didn't take 84,000 smoke breaks a day and could remember her lines she wouldn't have to put in so many hours. After her cracktastrophy biopic of Elizabeth Taylor for The Lifetime Movie Network is done, she's planning on staring in a low budge straight to Netflix soft core porn disaster called The Canyons. The directors are promising full frontal nudity. Yeah, no shit. Like we haven't seen that before.
Trying to tell the judge something with that fingernail?